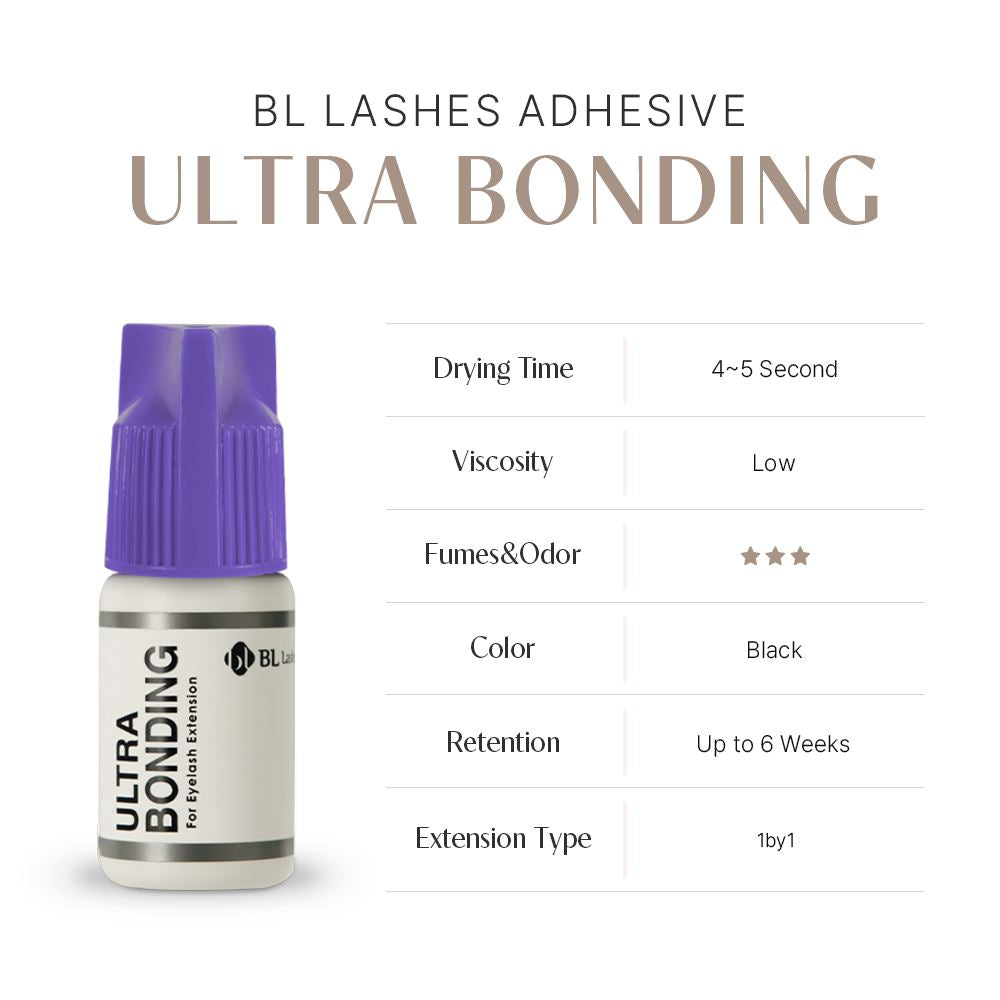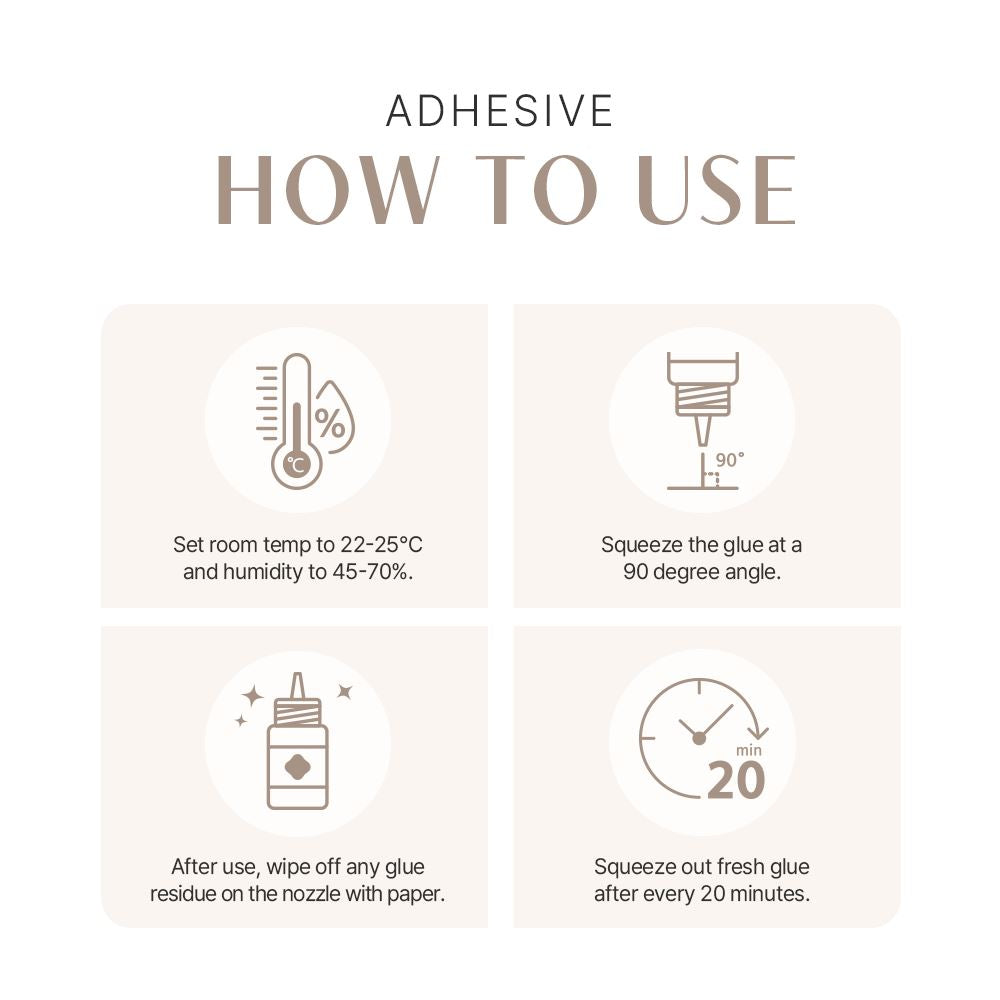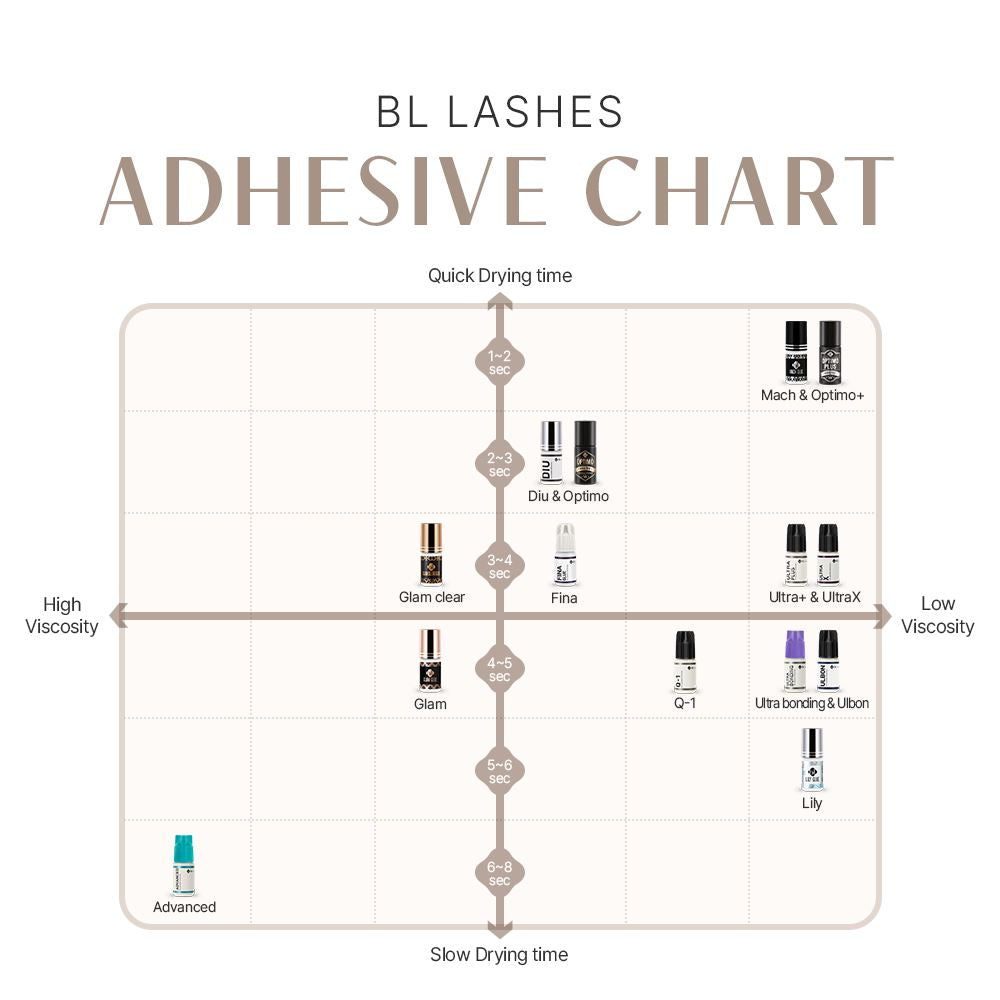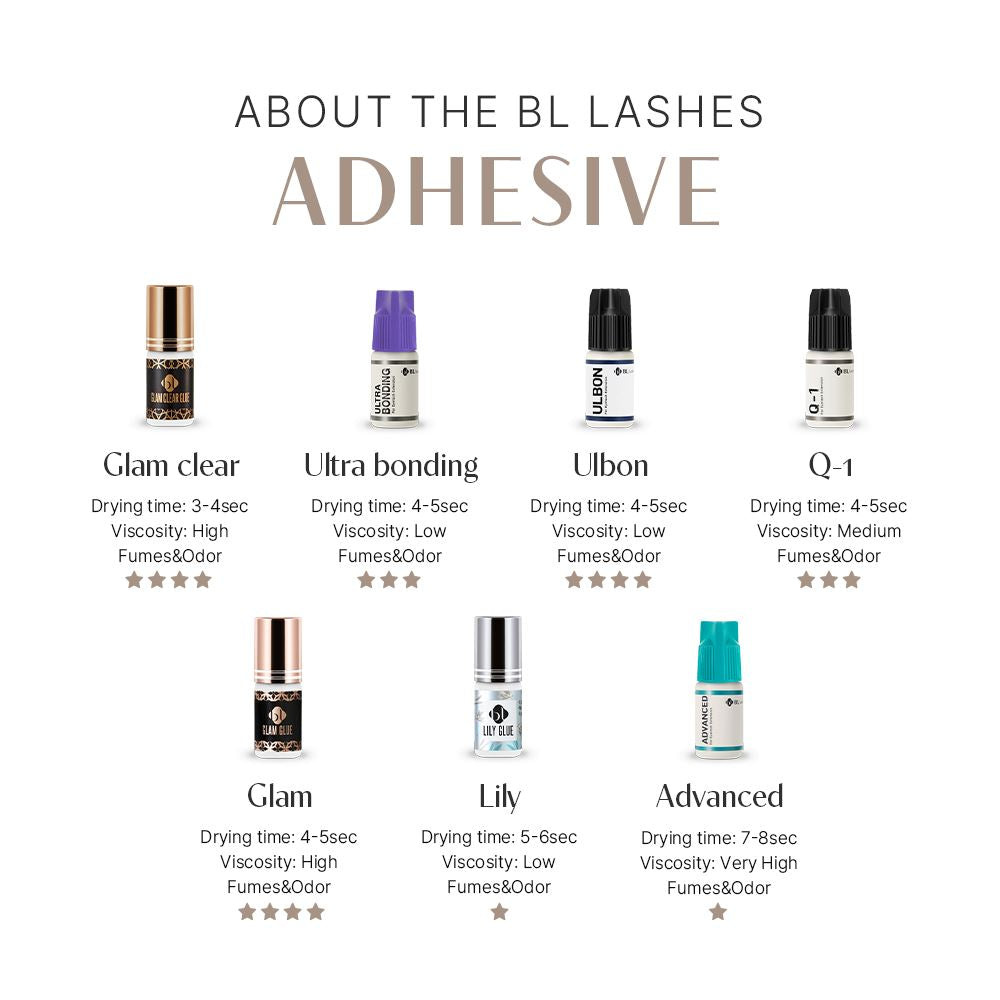 Ultra Bonding Glue
SKU: H01AR0005B
---
Ultra Bonding Glue


Color: Black

Setting Time: 4-5 sec Drying Time Lash Glue

Retention:

Up to 6 weeks

Viscosity: Low, Thin, liquid-like consistency

Lash Artist Level: All levels

Client Profile: Sensitive/average sensitivity tolerance to glue fume & odors

Technique: For Classic

Lash Extensions

With Ethyl-Cyanoacrylate reduced down to 68% (compared to 84% in Ultra X Glue), our Ultra bonding glue not only minimizes odors and fumes but also delivers exceptional adhesion and retention.
To use the lash extension glue for a long time, pay attention to the precautions and storage methods.

1. When discharging the glue, lift the outlet from the surface slightly as the dust or dirt may be sucked into the container.
2. Wipe the glue nozzle with a piece of paper immediately after use.
3. Close the lid tightly and seal it instead of just placing a lid on it to prevent contact with moisture.
4. As it was manufactured, store the glue in a sealed zip-lock bag with the desiccant.
5. Store it in a dry and cool place, avoiding direct sunlight.
6. In humid seasons or environments, you can purchase extra desiccants in the glue zip-lock bag. By doing so, you can prolong the expiration date.

Expiry & Usage Duration:

•For 10g Glue: 6 months before opening and 1 month after opening the glue bottle.
•For 5g Glue: 5 months before opening and 1 month after opening the glue bottle.
•For 3g & sensitive Glue: 3 months before opening and 1 month after opening the glue bottle.


How to store

1. Store it in a dry and cool place, keep it away from direct sunlight.
2. Proper storage temperature: 3°C to 25°C before opening and 15°C to 25°C after opening the bottle.
3. Proper storage humidity: The Lower the humidity, the fresher the glue can be stored.
4. Do not refrigerate the product as condensation will adversely affect the performance of the product. (If the storage environment temperature of the product is too high, refrigerate the unopened product, take it out 2-3 hours before use, and use it at room temperature.)
How to maximize BL Glue Retention

1. Optimize Room Conditions: Adjust the room's humidity (45-70%) and temperature (22~26 degrees Celsius) to meet the recommended levels.
2. Properly Clean Natural Lashes: Ensure a thorough cleaning of natural lashes by using Lash Shampoo to eliminate dust, oils, and makeup. Rinse thoroughly before applying lash extensions. After cleansing, prepare natural lashes by using a lash primer to hydrate and neutralize the PH level.
3. Check Eyelash Glue Freshness: Examine the freshness of your professional eyelash glue bottle.
4. Use Fresh Glue Drops: Squeeze out fresh glue every 20 minutes, and consider shorter glue replacement cycles, especially in high humidity environments, as the lash glue tends to harden more quickly in such conditions.
5. Apply Adequate Glue: Always ensure to apply a sufficient amount of glue. Too little or a very thin layer may not provide enough adhesion to hold the extension in place over the next few weeks.
6. Check Correct Attachment: Verify that the attachment is correct, with at least a 2mm attachment to the natural lash.
7. Avoid Layering Glue Drops: Avoid applying fresh glue directly onto the previous drop of glue, as it may result in a viscous texture and compromise the adhesive bond's quality.
Estimated Delivery Time 

In most cases, orders placed prior to 12pm noon KST(Korean Standard Time) Mon-Fri will ship out on NEXT DAY. You will receive a tracking number on the day your order is shipped.

In some cases, if your order needs extra clarification or customization, it may take up to 3-4 business days for processing and verification.

If you require delivery by a specific date, please contact us prior to placing your order. 

 

Estimated Delivery Cost

All our products are shipped internationally from South Korea to your doorstep. We try our best to make the delivery cost as low as possible.

 

Delivery Methods 

There are three ways to receive your order. You will be asked to choose one of the shipping methods at the checkout page.

 

Delivery Option 1. DHL (Recommended)

DHL might be slightly more expensive than EMS service but we believe DHL is the fastest and the most convenient way to receive your order.

DHL provides an estimated delivery time of 1 to 5 business days, depending on your location. Refer below for the expected transit time based on your location.

Asia: 1~2 days
US, Canada: 2~3 days
Europe: 2~3 days
Australia & New Zealand: 2~3 days 
Central & South America, Africa: 4~5 days

 

Delivery Option 2. EMS (Express Mail Service)

 

Delivery Option 3. Self-Pick up 

This method is only recommended for wholesale customers who are experienced in arranging their own international forwarder pickup.

Should you wish to arrange your own forwarder to pick up your package from our warehouse in Korea, please choose this option at the checkout and provide all the relevant details by contacting us. 

  

How do I track my order?

Once your order is fulfilled, you'll receive an email containing a tracking number. Simply click on the tracking number in the email to check the status. Alternatively, you can enter the tracking number on the DHL or EMS website using the provided URL.

If for some reason you have not received the email with the tracking number, it is possible that the email address you provided was incorrect or the email was sent to your spam folder.

If you're unable to locate the email, please initiate a search. Should you still have trouble, don't hesitate to reach out to us—we're happy to assist you!

 

Import Duties and Taxes

Every country handles important packages differently and associates fees according to their laws. It is the importer's responsibility to be aware of these potential charges and fees as they are associated to the receiver, not the shipper and the receiver will be responsible for them.

Please note that any import duties or other customs related taxes are not included in the product or shipping prices. BL Lashes is not responsible for these charges, the responsibility lies with the buyer.

For additional details, please reach out to the relevant authorities in your country to inquire about any applicable charges.

 

 

My order was delivered to a wrong address.

If your order was delivered to an incorrect address due to an error on our part or by the shipping company, we will promptly dispatch your originally ordered products at our expense. We will also furnish our DHL account details for you to return the incorrect products to us.

If your order was delivered to an incorrect address due to your own mistake (such as typing the wrong shipping address), unfortunately, we cannot take responsibility for the additional shipping costs incurred in rectifying your order.

We recommend you to contact the shipping company with your original tracking number and arrange delivery to your correct address.

Please note that once products leave our warehouse, it is extremely difficult to change the address of the recipient, so please double check your shipping address before completing your order.

 

Missing or Lost Packages

Is your order missing, or are you wondering about its whereabouts? We sincerely apologize for any inconvenience. Upon shipment, we emailed you the tracking information for your order. We suggest using the provided tracking link to check its status.

 

Contacting your shipping carrier directly is the fastest way to find out where your package is, arrange for delivery and get information on your anticipated delivery date.

While we are happy to help whenever possible, for specifics regarding your package's location and delivery, we recommend reaching out directly to the shipping company.
I ordered wrong products. What do I do?

If you found out you ordered the wrong product BEFORE your order is shipped (before you receive your shipping confirmation email with tracking number), you can go to My Account and edit your own order. 


However, once the goods have been shipped already, it's not possible to change your order from our end. Please contact our team at info@bllashes.com once you receive the package so you can arrange return delivery immediately. 


If you've ordered products in error and wish to return them, please ensure they are unopened, unused, in perfect condition, and returned within 30 days of the original delivery. In such cases, we may offer a refund for the unwanted product.


However, keep in mind that you will be responsible for the delivery charge and Glue is not the subject of a return due to its short shelf date which is 3 months.

 

I received a wrong product.

If you receive the wrong products, please contact us within 14 days after the products are delivered to you. We will send you the replacement (your original order) ASAP at our cost.

Shipping Costs for Returns

You will be responsible for the shipping and handling costs of returning the products to us unless it was the wrong or defected product delivered. All returned items will be tested upon receipt. Any item found damaged or defective will not be subject of return or exchange in credit.

 

Damaged / Missing Merchandise:

Please inspect all packages immediately upon delivery. If you believe that an item is damaged/missing, please notify us via email within twenty-four (24) hours of receipt of the product. It may be necessary for us to contact the courier company for damage inspection and open a claim. All original packing materials must be kept for claim purposes. In all cases, the damaged merchandise must be returned along with packaging materials. BL Lashes reserves the right to either replace the item or offer an in-store credit towards other products. No return will be accepted without prior authorization from Customer Service.
100%
Premium Quality Lash Extension Supplies
We pride ourselves on the relentless pursuit of excellence, channeling our
efforts into understanding the unique needs of our customers and the dynamic
landscape of Lash industry.