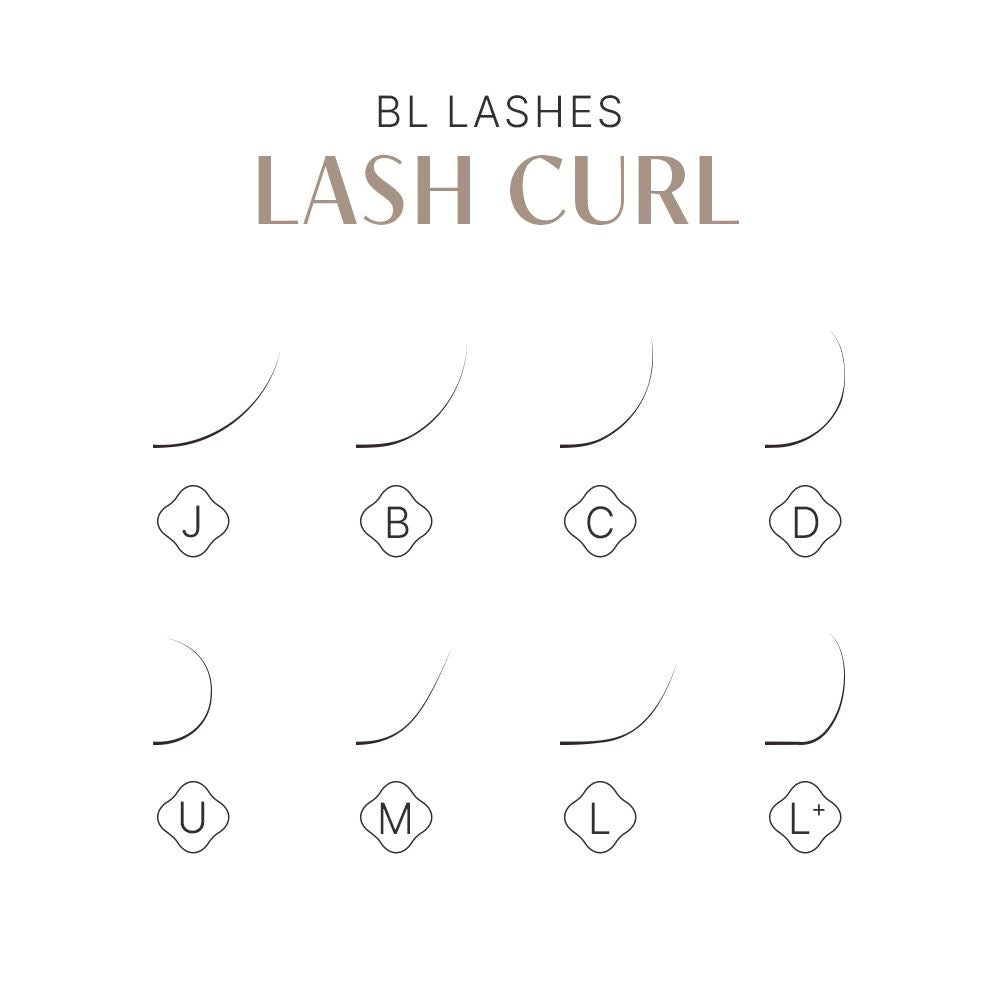 Mink Lash 0.07 (Loose)
SKU: A01BKJ0709
---
BL Loose Mink Lash Extensions 0.07

Made of high-quality PBT fiber
Lightweight for a more natural feel
Tapered for a more soft and natural look
Lashes are durable and hold curl over time
1g

BL Mink Lash Extensions are made with Korean PBT fiber which is lighter and more flexible than conventional synthetic lashes. 

These mink individual lashes are high gloss, curled, and tapered to perfection. They are easier to apply than regular eyelash extensions. 

Eyelash Extension Supplies from South Korea.

_ _ _ _

Customers wishing to purchase MTO(Made to Order) products can refer to this.

Find here a chart that explains the different types of lash extensions, sizes, and curls that are available: Eyelash Extensions Chart


Please check out our Shipping Information and Exchange & Return
Why BL Mink Lash Extensions?

We prioritize exceptional ingredients to create outstanding products. That's why our Classic Mink Lashes are exclusively crafted from high-quality Korean PBT fiber. This material boasts remarkable consistency in properties like ductility and elastic recovery, ensuring superior performance and longevity.

When you purchase mink lashes from us, you can expect the most accurate colors and curls. Our commitment to excellence is evident through our rigorous 5-stage quality assurance process, where each mink extension lash undergoes robust inspection. This ensures that every Classic Mink Lash achieves perfect curls and tapers. With a reliable and trustworthy product like ours, you can fully focus on showcasing your artistry.
Use silicone pads to easily pick up bulk lashes. If you remove the protective cover on both sides, you can use it after attaching it where you want it.

Use the lash pad to easily pick up bulk lashes. The silicone pad is placed in a plastic container to help keep it clean and for fast usage.

Estimated Delivery Time 

In most cases, orders placed prior to 12pm noon KST(Korean Standard Time) Mon-Fri will ship out on NEXT DAY. You will receive a tracking number on the day your order is shipped.

In some cases, if your order needs extra clarification or customization, it may take up to 3-4 business days for processing and verification.

If you require delivery by a specific date, please contact us prior to placing your order. 

 

Estimated Delivery Cost

All our products are shipped internationally from South Korea to your doorstep. We try our best to make the delivery cost as low as possible.

 

Delivery Methods 

There are three ways to receive your order. You will be asked to choose one of the shipping methods at the checkout page.

 

Delivery Option 1. DHL (Recommended)

DHL might be slightly more expensive than EMS service but we believe DHL is the fastest and the most convenient way to receive your order.

DHL provides an estimated delivery time of 1 to 5 business days, depending on your location. Refer below for the expected transit time based on your location.

Asia: 1~2 days
US, Canada: 2~3 days
Europe: 2~3 days
Australia & New Zealand: 2~3 days 
Central & South America, Africa: 4~5 days

 

Delivery Option 2. EMS (Express Mail Service)

 

Delivery Option 3. Self-Pick up 

This method is only recommended for wholesale customers who are experienced in arranging their own international forwarder pickup.

Should you wish to arrange your own forwarder to pick up your package from our warehouse in Korea, please choose this option at the checkout and provide all the relevant details by contacting us. 

  

How do I track my order?

Once your order is fulfilled, you'll receive an email containing a tracking number. Simply click on the tracking number in the email to check the status. Alternatively, you can enter the tracking number on the DHL or EMS website using the provided URL.

If for some reason you have not received the email with the tracking number, it is possible that the email address you provided was incorrect or the email was sent to your spam folder.

If you're unable to locate the email, please initiate a search. Should you still have trouble, don't hesitate to reach out to us—we're happy to assist you!

 

Import Duties and Taxes

Every country handles important packages differently and associates fees according to their laws. It is the importer's responsibility to be aware of these potential charges and fees as they are associated to the receiver, not the shipper and the receiver will be responsible for them.

Please note that any import duties or other customs related taxes are not included in the product or shipping prices. BL Lashes is not responsible for these charges, the responsibility lies with the buyer.

For additional details, please reach out to the relevant authorities in your country to inquire about any applicable charges.

 

 

My order was delivered to a wrong address.

If your order was delivered to an incorrect address due to an error on our part or by the shipping company, we will promptly dispatch your originally ordered products at our expense. We will also furnish our DHL account details for you to return the incorrect products to us.

If your order was delivered to an incorrect address due to your own mistake (such as typing the wrong shipping address), unfortunately, we cannot take responsibility for the additional shipping costs incurred in rectifying your order.

We recommend you to contact the shipping company with your original tracking number and arrange delivery to your correct address.

Please note that once products leave our warehouse, it is extremely difficult to change the address of the recipient, so please double check your shipping address before completing your order.

 

Missing or Lost Packages

Is your order missing, or are you wondering about its whereabouts? We sincerely apologize for any inconvenience. Upon shipment, we emailed you the tracking information for your order. We suggest using the provided tracking link to check its status.

 

Contacting your shipping carrier directly is the fastest way to find out where your package is, arrange for delivery and get information on your anticipated delivery date.

While we are happy to help whenever possible, for specifics regarding your package's location and delivery, we recommend reaching out directly to the shipping company.
I ordered wrong products. What do I do?

If you found out you ordered the wrong product BEFORE your order is shipped (before you receive your shipping confirmation email with tracking number), you can go to My Account and edit your own order. 


However, once the goods have been shipped already, it's not possible to change your order from our end. Please contact our team at info@bllashes.com once you receive the package so you can arrange return delivery immediately. 


If you've ordered products in error and wish to return them, please ensure they are unopened, unused, in perfect condition, and returned within 30 days of the original delivery. In such cases, we may offer a refund for the unwanted product.


However, keep in mind that you will be responsible for the delivery charge and Glue is not the subject of a return due to its short shelf date which is 3 months.

 

I received a wrong product.

If you receive the wrong products, please contact us within 14 days after the products are delivered to you. We will send you the replacement (your original order) ASAP at our cost.

Shipping Costs for Returns

You will be responsible for the shipping and handling costs of returning the products to us unless it was the wrong or defected product delivered. All returned items will be tested upon receipt. Any item found damaged or defective will not be subject of return or exchange in credit.

 

Damaged / Missing Merchandise:

Please inspect all packages immediately upon delivery. If you believe that an item is damaged/missing, please notify us via email within twenty-four (24) hours of receipt of the product. It may be necessary for us to contact the courier company for damage inspection and open a claim. All original packing materials must be kept for claim purposes. In all cases, the damaged merchandise must be returned along with packaging materials. BL Lashes reserves the right to either replace the item or offer an in-store credit towards other products. No return will be accepted without prior authorization from Customer Service.
100%
Premium Quality Lash Extension Supplies
We pride ourselves on the relentless pursuit of excellence, channeling our
efforts into understanding the unique needs of our customers and the dynamic
landscape of Lash industry.